This is a question whose time has come! 🙂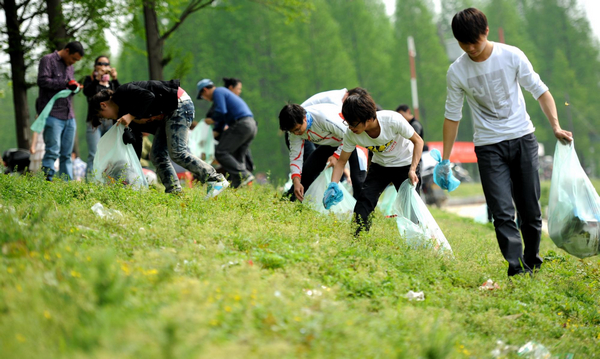 I just returned from a nice long walk with my teen daughter. While some might term this our "exercise" for today, we walked and talked and enjoyed moving our bodies briskly, drinking in the sunshine, while periodically stopping and picking up the relics of distracted humanity… the "trash." We also readily acknowledged and reached out to the animals and humans we saw along the way (today this included several people, one cat and two deer). Neither of us do anything for our selves only… even exercise. Some mornings I remember to bring an empty bag along, but often when I forget, like this morning, I "luck out" and find one along the way. It is my intent to leave each place I enter, each individual I see, better than I found them. I have wondered if a passerby might notice and perhaps feel motivated or inspired. Along with contributing to greater order and beauty in my environment, I hope that I also contribute to greater order and beauty in others' minds allowing for greater order and beauty in their choices for their own actions going forward, leading to greater order and beauty in our shared world.
As social creatures, we co-exist with the nearly 8 billion other individuals inhabiting our shared Earth. Although we often overlap and share space, time, words, laughter, sights, and situations, each experience for each one of us is unique. Experience creates belief systems which program the brain to utilize the sensory apparatus in ways to re-inforce those beliefs so as to validate the ego which is operating that brain. Experience creates belief systems which program the brain to utilize the sensory apparatus in ways to re-inforce those beliefs so as to validate the ego which is operating that brain. In other words: the way we individually "think" just MAKES SENSE because it is predicated upon what we have actually experienced; thus, it is our particular "truth."
No set of life experiences is identical to any other. No set of belief-systems that derive from those unique set of experiences is identical either.
Therefore, with each individual comes a unique set of "truths," each categorizing what is "good" and "bad," "healthy" and "toxic," according to the "dictates of their own conscience" which arises from their own unique experiences. For each of us, we are the "star" of our own reality show. We are the "good guy." If our ego is under attack, we can "justify" anything we have done as being appropriate and "right" where another is "bad" and "wrong." To define some thing as "toxic" (upon the continuum of "bad" or "wrong") implies leading to dis-ease, dis-order, and being potentially dangerous.
But, what is "toxic?" What is dis-ease or dis-order? At times, a degree of dis-order is required to promote progress. For instance, packing to go on a trip requires taking clothing out of their organized state, possibly "cluttering" the bed, and then RE-organizing them into another state within a suitcase. So everything, even "toxicity" or other states of dis-order may just be a part of a re-stabilization process leading to further progress.
Although there are 8 billion DIFFERENT "truths," IF we EACH came together, it would be possible to establish a core set of ABSOLUTE, undeniable, held-by-each-one-of-us "Real Truths."
In order to move forward our society into a harmonious future for all, it is imperative that we continually RE-align our individual personal "truths" to those of "Real Truth."
This entails revamping our "appetites, desires, and passions" into ones that protect the "appetites, desires, and passions" of the long-term good of ALL of us.
Although this is a simple procedure whose time has come, there are 8 billion individual egos at stake and some of them have not yet been willing to budge. However, with enough of us learning and accepting the simplicity of this better way, they, too, will change their minds (their belief-systems and egoic outlooks) and join with us in precious harmony.
Here is the key principle:
Choose to use your sensory apparatus (i.e. look, listen, smell, touch, taste, think) in ways that bring you the most happiness while being meekly open to realigning any learned behavior or belief… for the good of ALL.
Three decades ago I realized that watching the news or reading a news paper do NOT bring me happiness. Although there are occasionally "good" news clips sprinkled in, by far and large, most of those medium are targeted toward fear-mongering, judgment, and subtly stripping self-empowerment away from the unwary partaker. I decided to not be a partaker and realized (and have since proven to myself) that if I needed to know something, then the "powers that be" would bring it to my attention via some other way.
I choose to look for the "virtuous, lovely, good report, and praise-worthy." Indeed, I have sought for THESE things. Most importantly, I have eternally etched within the forefront of my mind a vision of the pristine state of this world… as I WANT it to be, as I KNOW it WILL become. Though this is my continual view, I am also aware of the current situation that is contrary to this precious inner vision. To me, this temporary "illusion" with which I must interact is as a piece of 2-dimensional vellum superimposed upon the more radiant and beautiful 3-dimensional world I inhabit.
In order to move forward, it is crucial that each one of us learn how to utilize one's lens in order to see BOTH views clearly and be NOT "double-minded," but single-mindedly aware of both the eternal state of purity while aware of the temporary situation in which we are required to act as it conforms to that exalted state.
Again, the key principle:
Choose to use your sensory apparatus (i.e. look, listen, smell, touch, taste, think) in ways that bring you the most happiness while being meekly open to realigning any learned behavior or belief… for the good of ALL.
Yet…
Perhaps you have heard of the "Broken Window Theory." In 1969, an experiment was conducted by a Stanford psychologist named Philip Zimbardo. He parked a car without license plates and with its hood up on a street in the Bronx. Within ten minutes, the car was attacked. First one passerby, then another, then more and more each came and threw a rock, tore off a section, busted a window, until the car was demolished. Zimbardo then did the same thing in Palo Alto, California. This time, however, the car remained intact for a week. To expedite his theory, Zimbardo himself smashed one of its windows. Soon, passersby, "primarily respectable whites," joined in the destruction of the car until it, too, was demolished.
This case would become the basis of the "Broken Windows Theory" which states that if a window is broken and left unrepaired, people will conclude that the people of that community don't care and that there is no overseeing authority figure. The result is more windows broken. These broken windows, in turn, will reinforce the message of neglect and lack of control. Thus, the degree of vandalism and crime will gradually increase, turning the place into a dangerous area for its inhabitants.
The first conclusion of this theory is that low-level anti-social behaviors can escalate and lead to more serious crimes and urban decay if they aren't tackled at source.
Again, here is the key principle:
Choose to use your sensory apparatus (i.e. look, listen, smell, touch, taste, think) in ways that bring you the most happiness while being meekly open to realigning any learned behavior or belief… for the good of ALL.
The western world has been, apparently, leading the "human race" and has just rounded the corner for the last lap. The motivating belief system fueling this group has been termed "the American Dream" and has been predicated upon "Christian theology." Christian belief stems from writings interpreted by those lauded as leaders and capable of translating the meanings of the book held most dear entitled "The Bible" and heralded as "the word of God." The New Testament, those words most progressive and written as the "climax" of that book, are predicated upon the life and teachings of a man 2000 years ago. It is the way these teachings are read (or not), defined, understood, and lived that has carried these leading runners to their current position.
Yet, it is easy to look at the current state of the world as a whole and see much disorder, decay and "toxic things" (people and relationships in addition to man-made "stuff").
Let's take a step or two UP to a higher perspective and view the current situation.
As humanity has gone through its developmental sequences (just as an infant grows through several steps along her way to complete maturity and wisdom), there have been allotted times when those who have wielded more acute long-term awareness have lived and shared their visionary wisdom. Often being misunderstood, ostracized, deemed crazy and eventually killed, still their implanted visionary "seeds" within some prepared minds took hold and continued growing into fruition.
One contributor who was just advanced enough to have been more accepted without being killed, was Einstein. Because he was not too "out there" in his views, his ideas have been more accepted than others with far greater vision than his, yet even he acknowledged:
Even the one known as "Jesus" stated that those who accepted his seed thoughts would go on to do "greater works" than he had done. Yet, his vision advanced humanity beyond "an eye for an eye" (the Mosaic Law) into "turn the other cheek."
Each step up humanity's mountain toward our ultimate destination of societal harmony and prosperity for all has resulted from increasing one's focus from a small point (ME-ME-ME) into an ever widening circle of awareness. As an infant grows from being completely self-absorbed to realizing the importance of his mommy as an "other" person, then his family -> extended family -> neighborhood -> community -> nation -> international -> universal perspective… This is as intended, though each who are still running "the human race" are stuck in one sub-set or another of this.
Those who fit the subset entitled "narcissist" are those who, though they might APPEAR to have grown UP, have fallen down and are living from a very low-level of awareness. (ME… "What's in it for ME?" "How do *I* look to others?" instead of "What can I do, which beliefs of mine can I prune off, to contribute to the ultimate good of ALL?")
In order to finish our race, individually OR as an entire species of humanity, we MUST be persistent enough AND Meek enough to apply the key.
Each one of us must:
Choose to use your sensory apparatus (i.e. look, listen, smell, touch, taste, think) in ways that bring you the most happiness while being meekly open to realigning any learned behavior or belief… and for the good of ALL.
As advanced as Jesus' words which have been the baton carried by those who have led the last lap, to "turn the other cheek" must be re-analyzed and realigned.
As we have applied the interpretation of this (formerly beneficial teaching) we have turned for the most part into a species of 1% controllers (who do NOT abide by the teaching in any way except superficially) and 99% ill-advised conformers. Yes, those largely believed as "good" and "leaders" among us are those who have inadvertently contributed to the very toxicity problem in which we all now swim. Passive-aggressiveness reigns by "turning the other cheek" and ignoring toxicity. This does NOT lead to "inner peace" as evidence by our current epidemic of those who believe they live by the words of Christ, but to drug addiction (whether legal or illegal), misery, dumbed-down "past-feeling" states, and suicide.
Paradoxically, the answers to our current dilemma lie hidden and largely unsought-for within the words of Jesus them self. Please see these TRUE Ten Commandments that TRUMP the ten that Moses was required to give because the people at that time were not willing to accept them, see the link on the right: The TRUE Ten Commandments Additionally, see where they fit in scripturally here (also in a link on the right): The Fullness of the Gospel of Christ ~ Matthew 5-7 (Compare to 3 Nephi 12-14) Also, I encourage you with all the depth of my being to join with me as I unveil how to L.O.V.E. at the level now needed to finish YOUR individual race while assisting ALL of us to honorably complete the "human race" TOGETHER. Please visit and "Join with me" here in the link on the right and in each of my posts.
Here are the TRUE Ten Commandments:
1.Let your light shine by your example that others might see and glorify God through you.
(Matt 5: 16: Let your light so shine before all men by the good works that ye do because of the light that the Father hath given unto you; that they might see your good works, and glorify your Father which is in heaven.)
2) Never become angry at ANY person in ANY situation.
(Matt. 5: 22: But I say unto you, he that killeth in any manner and for whatever reason lieth in sin; and whosoever is angry with his brother for any reason shall be in danger of the same judgment, because the anger in his heart might lead to the death of his brother; and whosoever shall hold his brother in contempt or ridicule shall be in danger of the law that hath been given by the council which rendereth the law; but whosoever shall say to his brother for any reason, Thou fool, shall be in danger of a hell like unto fire, which shall burn in his soul because of that which he thinkest of his brother.)
3) Respect another's opinions and beliefs as if they were your own.
(Matt. 5: 25: Yea, be kind to thy brother and respect the opinion of he who disagreeth with thee and considereth thee his adversary, whiles thou art still in his good graces, that thou mightiest remain in the way with him; lest at any time he who considereth thee an adversary causeth thee to sin; for in whatsoever sin thou shalt be found, thou shalt be delivered to the judge, and the judge deliver thee to the officer, and thou be cast into prison.)
4) Stay faithful to relationship commitments, whether these relationships be personal or business, especially promises of fidelity.
(Matt. 5: 28: But I say unto you, That whosoever looketh on a woman to lust after her hath committed adultery with her already in his heart; therefore, your leaders have caused you to err because of their examples. Ye look at them as your guides who have eyes that see for you, and hands that do for you that which ye believe God hath commanded of them.)
5) Do not fight back in ANY situation.
(Matt. 5: 40: And if any man will sue thee at the law, and take away thy coat, do not fight for that which he desireth of thee, but let him have thy cloak also.)
6) Love your enemies by never thinking of another as your enemy, but as an equal child of God.
(Matt.5: 44-45: But I say unto you, Love your enemies, bless them that curse you, do good to them that hate you, and pray for them who despitefully use you, and persecute you; That ye may become the children of your Father who is in heaven, who is no respecter of persons; for he maketh his sun to rise on the evil and on the good, and sendeth rain on the just and on the unjust—all being His beloved children.)
7) Do not give to be known for giving, but be known for giving.
(Matt. 6:1: And it came to pass that as Jesus taught his disciples, he said unto them, teach this people, saying, Take heed that ye do not your alms before men, to be seen of them and receive the honor and praise of the world; otherwise ye have no need for a reward of your Father which is in heaven, which He shall give unto you, not as the honors of men are given, but by the peace of His Spirit.)
8) Do not fast and pray as others, but know, understand, and act upon the TRUE order of fasting and prayer.
(Matt. 6: 6, 16: But thou, when thou prayest, enter into the closet of thy heart, where others cannot hear thee, and when thou hast shut thine own door to be alone in the Spirit, pray to thy Father who seeth in secret; and thy Father who seeth in secret shall reward thee openly through the ministrations of the Spirit. Moreover when ye fast, be not, as the hypocrites, who pretend to be of a sad countenance; for they disfigure their faces so that it may appear that they sacrifice much of the flesh, that they may appear unto men to fast. Verily I say unto you, They have their reward.)
9) Seek for peace and happiness instead of money and success.
(Matt. 6: 19- 21: Lay not up for yourselves treasures upon this earth, where moth and rust doth corrupt, and where thieves break through and steal the treasures of your hearts, which are the desires that ye have. But lay up for yourselves these treasures in heaven, where neither moth nor rust doth corrupt, and where thieves do not break through nor steal; For where your treasure is, there will your heart be also.)
10) Do not judge another in ANY way or set a standard or measure for what another person should be or live up to.
(Matt. 7: 1,2: Behold, the temptations of the flesh cause this people to judge one another, and anger and strife enter into their hearts, therefore they sin and keep not the great commandment that I have given unto you. Therefore, teach this people, saying Judge not, that ye be not judged. For with what judgment ye judge another, ye shall be judged of the same. Behold, ye should discern that which is good and that which is evil, but make this judgment in righteousness according to the commandments I have given you of the Father. For which one of you, being evil, can set a measure of righteousness for another? With the measure of righteousness that I have given you, ye shall judge the actions of another, and with this measure that ye mete, it shall be measured to you again when the Son of Man cometh in his glory.)
~~~~~
In order for YOU to find the greatest degree of "inner peace" available to YOU, it is imperative to:
Choose to use your sensory apparatus (i.e. look, listen, smell, touch, taste, think) in ways that bring you the most happiness while being meekly open to realigning any learned behavior or belief… for the good of ALL.
In order to advance, this means you MUST seek out those who do NOT give you comfort but Chastisement, those who do NOT second your self-justification, or listen to your woe-is-me attitude, but point you to these "words of Christ" while pointing out your blind spots.
In all humility, I have reached the top of humanity's mountain, I have "finished the race" and have the vision to assist YOU. Because I DO NOT WANT to be a leader to you or any other, but merely to assist YOU to finish YOUR race, I have elected to not be seen as any better. I have so far chosen to NOT take upon me my glorified and beautiful body (the trophy awaiting each of us), but appear as a typical 56 year old. Thus, YOU will not look to me as any better than anyone else. I am not. I have just reached the summit and understand how to assist YOU to reach it, too.
And, the only way for YOU to achieve Real and Lasting Peace, the "peace that passeth understanding" is to NOT ignore "toxic things" but to seek each moment to better your brain's programming by letting go of belief-systems that divide and separate in any way and by implanting choices and habits that enhance the good for all of us long-term.
After all, none of us are finished with this race until ALL of Us are finished with this race.
We need each other to give us opportunities to realign our belief-systems and correct our sensorial use. We must look only temporarily for those of the highest acuity as they point us to the "words of Christ" which point us to "the kingdom of heaven"… within.
We MUST NOT wait for a "Christ" to come to clean up the messes that we have each contributed to. If there is a piece of trash (a deserted, broken-down car for instance), we must choose the most integrous action FOR THE GOOD OF ALL, not contributing to more degradation and trash, but assisting the steps forward of those who follow… even if it means standing up for a higher viewpoint, challenging a lower-level voice who operates for his own (little i) self-centered validation. Though this might be uncomfortable, though that little-i person might see it as a declaration of war and attack, we must stand strong and operate from the highest viewpoint possible.
We must "take his yoke upon us" and BE the Ones we have waited for! Not in self-righteous arrogance, but in the strength of feeling the fully lit light within as we make all decisions according to (no longer a self-obsessed individual, but) "WHAT IS THE BEST FOR EACH OF US… LONG-TERM?"
As we do, we will pick up the trash outside of ourselves AND within ourselves, creating choice-by-choice a less and less toxic, more and more purified world. For each and all of us to enjoy.
Together.
In service…
In my pursuit of Real Truth, I have given up everything. Crawling through the "eye of the needle," I have learned the *mysteries* and am now giving my life to assist YOU to dis-cover Who *YOU* really are, along with your unique gift to offer humanity. As you learn to seek (in the right place and with purified intent), you WILL find treasures of lasting value, along with every promised reward. Together, we will establish a society of humane beings and live life ALIVE, on PURPOSE, and with a sociality unequaled… because we will each BE and view each other as equally and profoundly DIVINE! Please… catch this Hope and Vision and join with me.